I was trained as an industrial engineer. I wanted to work in the automobile field and was not yet interested in robotics when I started my bachelor's. I was initially attracted by the mechanical design of cars. Later during my studies, I found control more interesting. It is only in the last year of my bachelor studies that I became attracted to robotics.
After my bachelor's, I worked at a company in the design and control of special machinery. However, after a year, I realized that that was not what I wanted for the rest of my life. After all, I wanted to change the world! Thus, I applied and received a scholarship from the government of Catalonia (Balsells Fellowship) to perform a Master's degree at the University of California at Irvine (UCI), USA. At UCI, I fell in love with the field of rehabilitation robotics and decided to pursue a PhD. I had finally found my place, I could use my competence in robotics to enhance the quality of life of those with special needs (i.e., children with Cerebral Palsy, stroke survivors, etc).
I grew up in Cyprus and my parents, now retired, were both Mathematics school teachers, so from a young age I learned to appreciate the logic in Maths. Then my sister had already been pursuing Computer Science in the UK, so she was a key influence when deciding what to study. As a result, at 17, I joined the University of Cambridge in the UK to study Information and Computing Engineering. A motivating final-year project triggered my interest into further study in Computer Vision and Robotics, so I was lucky enough to be given a chance to pursue a PhD in this area at Imperial College London. This was a very creative and educational time for me, having the change to work under a very supportive supervisor, Prof. Andrew Davison, whose passion for good and honest research was contagious and motivated me to work harder.
I discovered robotics by chance. While browsing the options for my Bachelor thesis in Computer Engineering, I stumbled upon one on the design of an accurate indoor localization system for a mobile robot deployed in a hospital. I liked the fact that I had a lot of freedom in my quest for a solution, and a very simple metric to measure the quality of my ideas: does the robot make it inside the elevator? That's good. Does it crash into the wall beside it? That's bad. That wonderful first experience with robotics led me to pursue a Master in Robotics, then a PhD in Robotics… and slowly, a bit unconsciously even, make it the pivot of my professional career.
Robotics is for me an endless source of engaging puzzles and challenges, but, way more importantly, robotics is also a special lens through which I can observe mankind and nature. There's a species of ants living in the Sahara desert that can cover large distances in search for food and always, precisely, find the way back to the nest even though there is literally nothing but sand around them. It's my thesis on robot localization that made me see the wonder in these tiny little creatures. Maybe this is also why I ended up working in Human-Robot Interaction: seen through this lens, we humans are breathtakingly beautiful… and this is a great feeling to have at the end of the workday!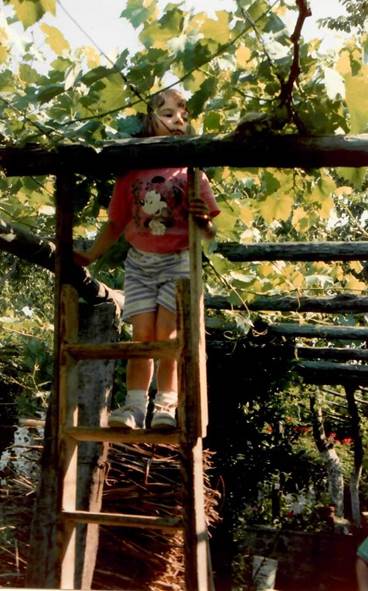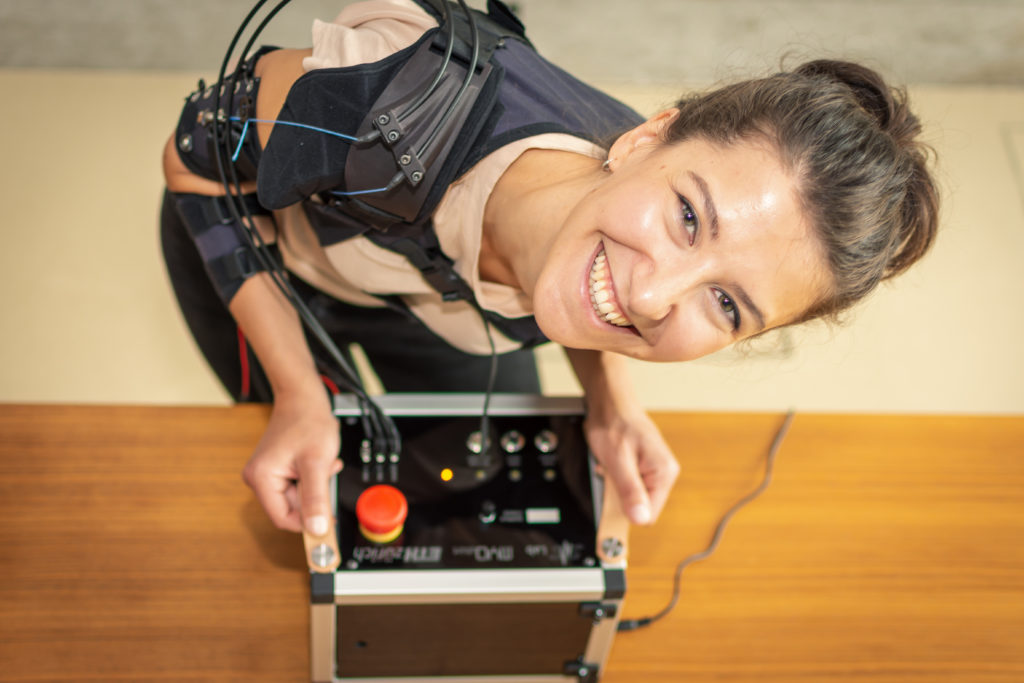 Both my parents work in healthcare, so as a kid, studying medicine seemed like the most logical path to me. Later in high school I realized that I wanted more: I wanted to create new things, advance and learn, work with people from diverse backgrounds, and apply my knowledge and skills to versatile problems. So after thinking very hard and having long conversations with my peers and mentors, I ended up studying engineering sciences. The prospect of working creatively and rather project-based seemed very appealing to me. Moreover, studying engineering would give me a couple of new perspectives on my all-time favorite questions: How do things work? And why are they the way they are? It was only in the second year of my Bachelor's that I realized that the field of robotics was exactly what I was looking for: Most problems in robotics are multi-disciplinary, and the skills of a roboticist can be transferred between applications in almost any field. In general, I would describe myself as a very creative person with a strong interest in the multifaceted topics of humans and design. My PhD project – creating an assistive robotic suit for the shoulder joint – allows me to combine my skills, passions and interests on a daily basis. And the nicest thing is that I even learned a couple of things from medicine, so after all, my parents feel like they finally understand what I am actually doing 😉
I started working in the field of bio-inspired robotics during my bachelor's studies, when I had the opportunity to contribute to a research project. It was also when I had the opportunity to contribute to my first robotics research article. Thanks to that, I attended my first robotics conference. That experience opened my mind and since then, I have always worked on bio-inspired robots. I like working in robotics, specifically as it relates to animal locomotion. Being a researcher has given me the opportunity to learn bio-inspired robotics at different institutions like EPFL, ETH, MIT and now Harvard where I am doing an exchange as part of my PhD at EPFL.
Have you ever been forced to taste a food that you never thought you'd like but then after forcefully eating it, you end up loving it? That's exactly how my love for robotics started (moral of the story: be open to new experiences).
I was in the 3rd year of my bachelors degree when one of our professors from an advanced course on "Control Theory" made it compulsory for everyone to participate in the biggest robotics competition in Pakistan. While the competition gives you a year to prepare, we had less than 6 months. We were a group of 5 boys and 1 girl and I could see us all working super hard but I could have never imagined in my wildest dreams to end up winning the competition. Initial annoyance turned into jubilance and I knew I wanted more robotics in my life. Within robotics, I started from developing motion planning algorithms to bio-inspired memory models for autonomous agents to finally where I am now: Human-Robot Interaction technologies, leveraging AI, for enhancing learning in open-ended environments. I believe the reason why I was attracted towards an intersection of HRI and education comes directly from my passion to build technologies closer to human needs and those that have long-term impact on human lives.
When it comes to struggles, the most obvious one that I experience myself or observe around me is the gender inequality issue in this field. This creates a lack of a 'support network' which can prove to be daunting at times. Personally for me, at several points in my research career, I was either the only woman or one of the few women in the room whether in a lab, classroom, workplace, or at a conference room or a convention, etc. This is especially true given my ethnic and religious background that further reduced me to a minority even in a room relatively full of female engineers. However, this motivates me to further engage in leading roles to play whatever little role I can to help remove stereotypes. Lastly, the more bothersome issue for me is to witness many accounts of women needing to prove themselves a lot more than men to be taken seriously especially at technical fronts both in the East and the West. That's where I think we need the support of both men and women in re-educating people's mindset at an early age to break societal norms. But despite of struggles, there is always hope: I was fortunate to grow up with a very supportive family with my father being my biggest supporter, now with the most supportive husband, and lastly I have to mention that my current lab CHILI at EPFL is setting an amazing example with a super diverse team both in terms of gender as well as ethnicity; hence, bringing unique richness and multi-dimensionality to the solutions coming out of the lab.
As a kid, I was a very shy student at school, I always behaved well and had high grades in general. I enjoyed studying and found all subjects exciting. I had such a special interest for math that I used to solve math problems just for fun. I also enjoyed building hands-on models/maquettes for biology and physics courses, as well fixing and dismantling toys with my brothers.
When time came to choosing one major at university, I was very hesitant what to pick. I finally decided to go into Electrical and Computer Engineering and I am happy with my decision. It never gets less exciting to see things lighting and moving. With few friends, we later co-founded the robotics club where we used to organize workshops and competitions to create a community and encourage others to work together on hands-on projects. I would say what made me pursue robotics was mainly its interdisciplinary nature, its tangible component, and that it is always fun.
After getting my B.E. with a minor in Mathematics from the American University of Beirut, I had the opportunity to continue my formation at EPFL where I was introduced to wider aspects of the field. Currently, I am doing my PhD in CHILI to investigate the novel aspect of human learning of complex systems and emergent behaviors with tangible swarms of robots.
Looking back, I consider myself lucky to have a supportive family, supervisors and work environment. Few years ago, when handing my permit to the swiss security control at the airport, the officer asked 'what are you studying?'. When I said robotics, he replied: "That's not so obvious". I always get a mixed feeling when people get surprised that I am doing robotics. On one hand, I am proud to show that one can actually follow their passion irrespective of the stereotypes, but on the other hand, I wonder, why should it be surprising that I can be a roboticist?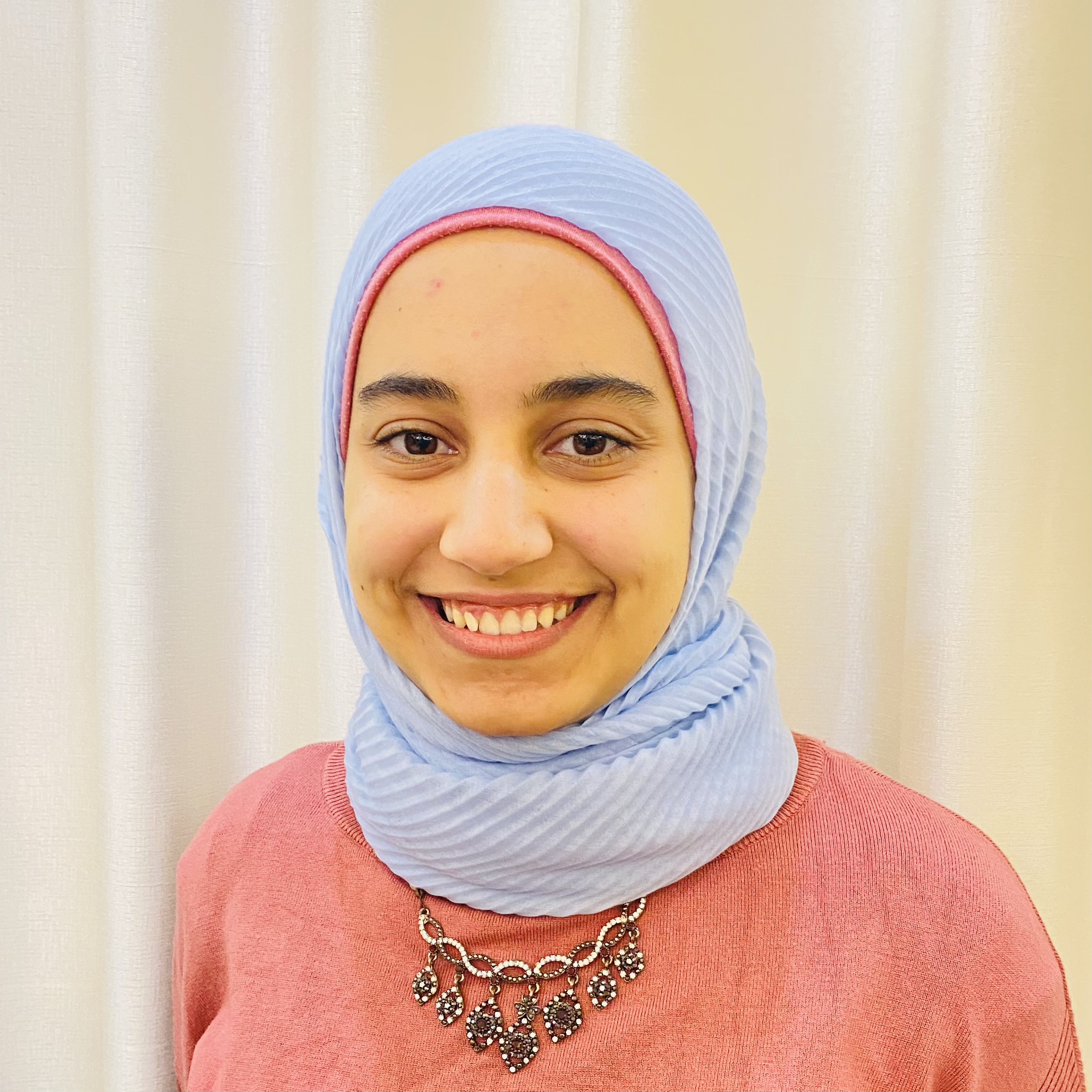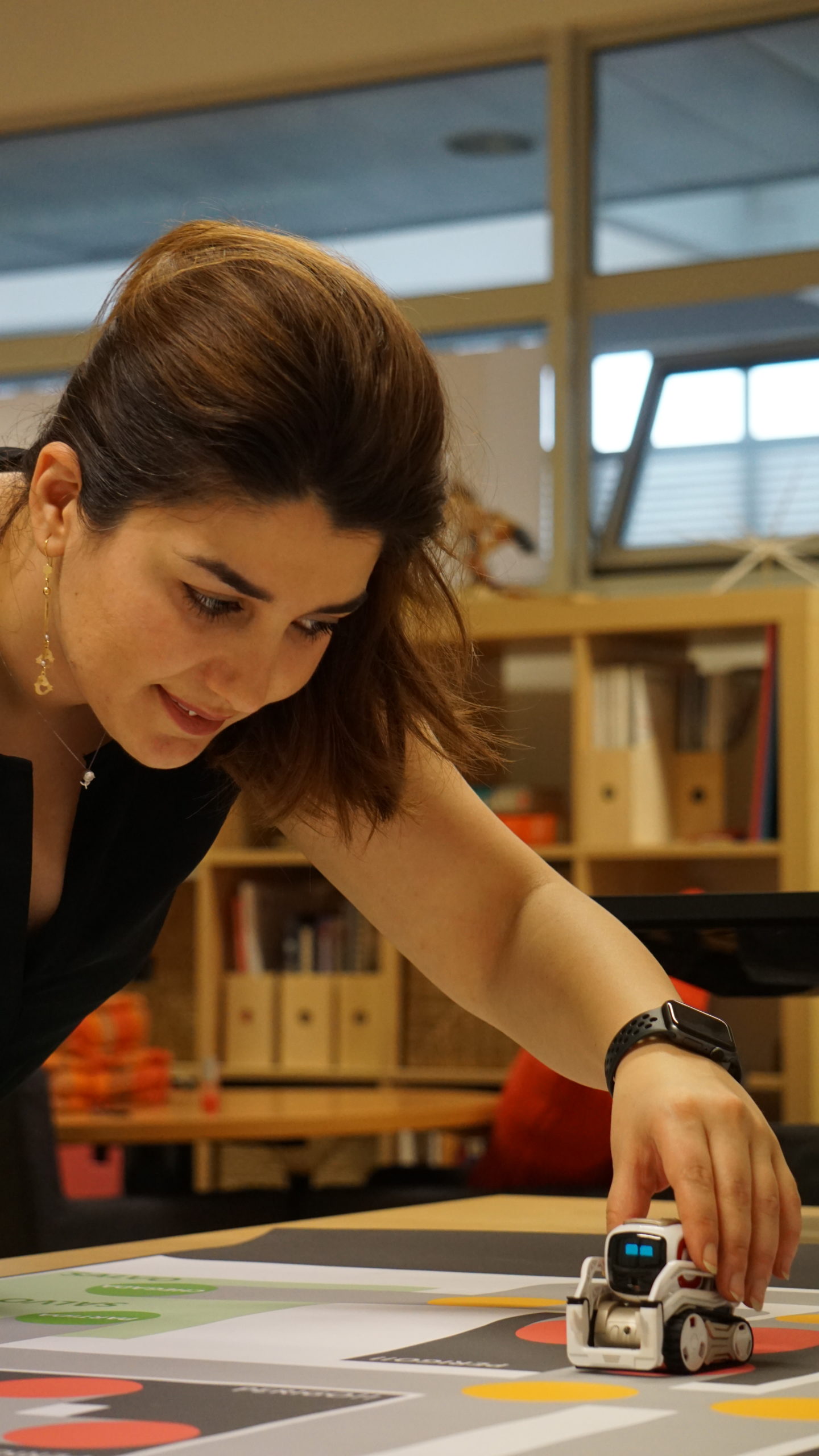 Where I am today as a roboticist is a by-product of my engineering side trying to make sense of my psychological side. As a mechanical engineer, I learned how to design and build technology and as a roboticist, I am learning how to balance between the cognitive aspect of the technology and the mechanical aspect of humanity. That's why my current research focuses on developing social AI and robots that are cognitively advanced to understand the human's mind and communicate in an effective way that can be also affective.
As a child, I simultaneously wanted to be an astronaut and go to space, become a pilot and fly, and go back in time when dinosaurs were still alive. And there was a brief period of time that I wanted to be a boy to make my dreams into reality, until I finally decided that I can be a girl and do all that. Perhaps, learning about Marie Curie had a key role in helping my childish brain to make such a big decision. Later when I found science-fiction books, the worlds depicted by Arthur C. Clark and Isaac Asimov became my next dream and that's where I slowly found out robots can be my next reality. I had to take a few detours to finally become a researcher in a field that is fueled by my dreams, abilities, and inspirations but now I feel unstoppable.
The world of technology has always been fascinating for me and I am very glad not only to have chosen this field but also to have enjoyed the support of my family in doing so. I graduated from a technical university in Russia as a space engineer and after some years working on the flight programs towards the International Space Station (ISS), I joined a robotics lab at the EPFL. Now, I am helping to inspire other young people about getting involved in technology through educational robotics projects. My choice to start my career in engineering has led to an incredible journey in my life, where I get to enjoy and discover our beautiful world through space and robotics.