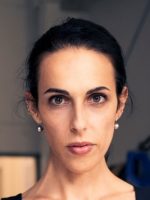 Lab:
Laboratory of Automation Robotics and Machines (ARM-Lab)
Email: anna.valente@supsi.ch
Anna Valente is a Professor of Industrial Robotics. She got a Ph.D. in Manufacturing Technologies and Production Systems at Politecnico di Milano and a Post-doctorate in interoperability for adaptive factories from UBath, UK. Since 2006, she has been working in cooperation with big research institutions and industrial stakeholders operating in the manufacturing value chain. She is currently Head of the Laboratory for Automation, Robots and Machines with SUPSI-DTI-ISTePS where the core research deals with the design, engineering and prototyping up to TRL 7 industrial solutions integrating advanced process chains to realize high value added products.  She is the author of two books, several patents and more than 100 papers on system (re)configuration, robotics and control platforms. Since 2012 she has been coordinating several European and National Projects. She is an Associate member of CIRP – The International Academy for Production Engineering. Since 2018, she has been serving the Innosuisse Agency as an expert in the field of robotics and laser machines along with the SATW Research Alliance in the Additive Manufacturing Cluster. She is currently a member of the Swiss Science Council SSC (elected in 2020) that is consultative body to the Federal Council, operating with Federal Department of Economic Affairs, Education and Research on the matter of science and educational policies and governance. In 2019, she has been awarded by the European Commission with the Woman-Led Innovation and the Grand Prix for Innovation. In 2021, she has been awarded with the Swiss DINNO Award by the President of the Swiss Confederation, Guy Parmelin.