Please find following links related to start-up support.
If you would like to promote your events through our channel, please contact us at nccr-robotics@epfl.ch
ESA BIC Switzerland Info Event in Lausanne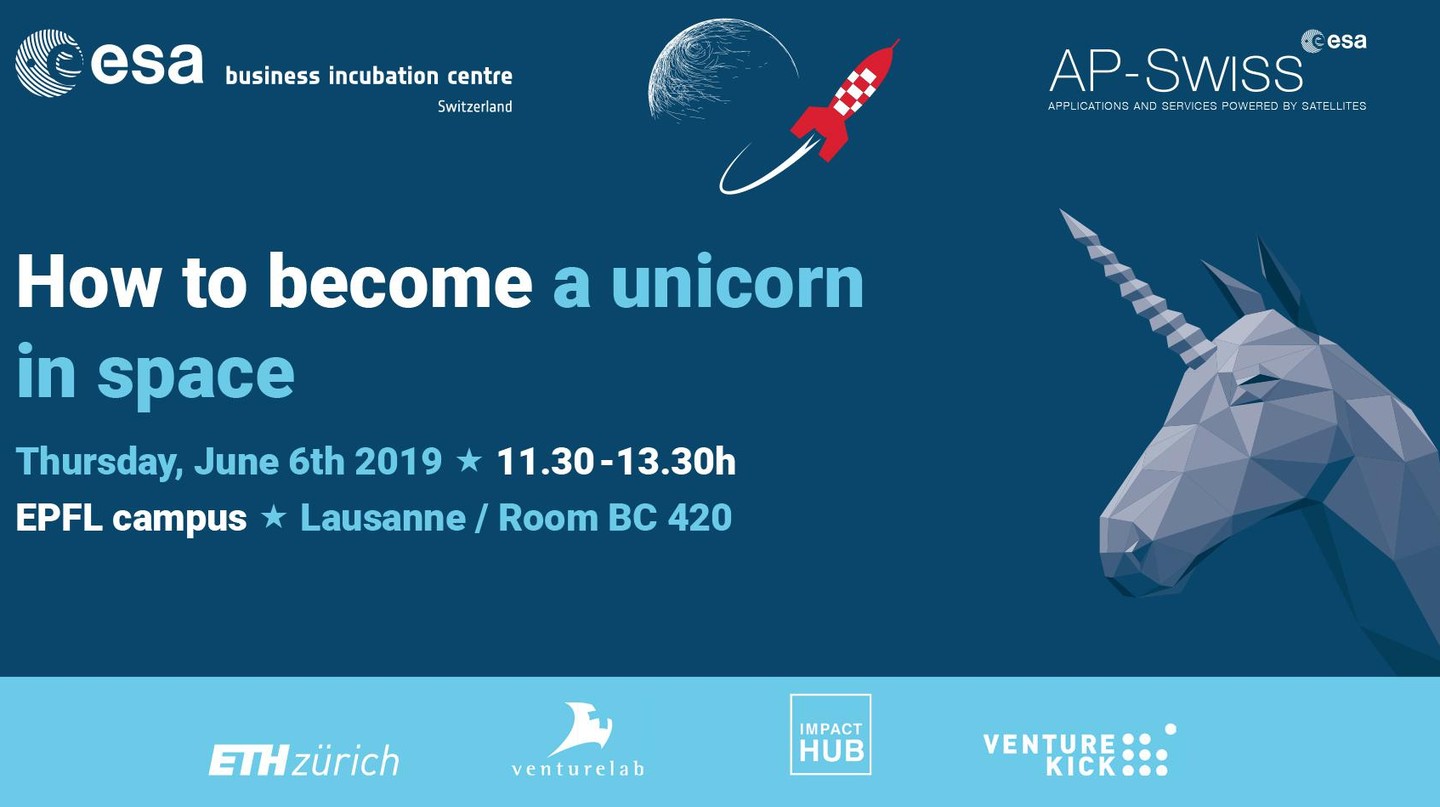 How to become a unicorn in space?
Are you a start-up incorporated in Switzerland, less than 5 years old and with a potential "space connection"? Then you should learn more about ESA Business Incubation Center (BIC) Switzerland!
ESA BIC CH currently boasts a portfolio of 21 start-ups and 3 alumni with fascinating innovations and technologies.
Attend this Info Event to learn more about our program and how to become an ESA BIC CH supported start-up yourself.
The target audience for this event are interested start-ups, entrepreneurs and students from all over Switzerland.
We kindly ask you to register for this event via event@esabic.ch by June 3rd.
Annual IMD Startup Competition
Could your startup benefit from highly talented, experienced and motivated individuals who have been carefully screened to participate in two of the most selective and rigorous business programs in the world?
If so, this competition provides a unique opportunity for you to get the help and insights of participants in IMD's MBA and Executive MBA programs.
Many ventures got lasting value from working with our MBAs and EMBAs. In the most recent Swiss Top 100 report, IMD-supported startups captured 28 of the top 100 places, including the first 4 out of the top 10. Do you want to be in that group next year ?
Innobooster
Accelerating Market Entry of Deep Tech Spin-Offs
«InnoBooster» aims at speeding up innovative, science-based deep tech business cases which have already entered the Venture Kick process and promise high market potential. Up to CHF 150,000 for a maximum of 1.5 years can be granted to top talents with a clear plan and funding need for accelerated market entry. The new funding line is calling for convincing proposals which show how a further boost in research and development or design can drive business success.R
Venturelab
INNOSUISSE start-up training
Innosuisse is the Confederation's innovation agency and pursues the task of promoting science-based innovation in the interests of industry and society in all disciplines. Therefore, it created the Innosuisse Start-up Training to help you develop your business idea, set up your company and implement a strategy for growth.
RobotUnion
RobotUnion is an ecosystem that encompasses SMEs and startups together with corporates, researchers, acceleration programmes and investors. The aim is "to create the best conditions for long-term business success for all involved", as per the DIH definition by the European Commission.
The RobotUnion consortium is comprised of 14 partners from 7 European countries and Canada. RobotUnion congregates a constellation of top players representing all the links of the innovation value chain from research to market.
ESA – Business Incubation Centre Switzerland
(ESA BIC Switzerland)
The ESA BIC Switzerland is a nationwide initiative that opened in 2016, powered by the European Space Agency (ESA) and ETH Zurich.
The program offers broad support packages to entrepreneurs and young start-ups for exploiting space systems or technologies to develop their non-space business on earth or using a technology from earth for an application related to space.
So, that doesn't always mean rocket science, but applies to multiple application fields such as navigation and positioning, communication techniques, earth observation, materials, processes, signals or robotics.
Our extensive partner network will provide you access to networking relevant to your market, offers technical and business support, and will help you find potential investors.
Kickstart Accelerator
Robotics & Intelligent Systems
Kickstart is a yearly running program in Switzerland that brings together later-stage startups with corporations, foundations, universities and cities in order to accelerate deep tech innovation. The program is open to Swiss and international startups that are developing and/or applying deep technologies – science and engineering driven technologies such as AI, Big Data, Blockchain, Robotics etc. – in and around the areas of EdTech & Learning, FinTech & Digital Assets, Food & Retail Tech, Smart City & Technology, HealthTech and Cybersecurity.
Selected entrepreneurs get the change to do market entry and business development in Switzerland and Europe. In the program, they will meet and work together with executives of leading Swiss corporations and organizations, aiming to initiate innovation partnerships and pilot projects. They receive support through experienced advisors from the Swiss innovation ecosystem, get access to investors and take part in collaboration workshops. Additionally, Kickstart covers up to CHF 10,000 of business development expenses during the program.
Kickstart takes no equity and charges no fees from the participating startups.
BRIDGE
For young researchers: Proof of Concept
Have you earned your spurs as a young researcher and come up with an idea for developing your research results into a marketable product? And are you looking for an opportunity to test and refine your idea. Then BRIDGE Proof of Concept is just what you are looking for.
BRIDGE Proof of Concept helps young researchers to apply their research results and gain the confidence needed to make a market entry. The projects may target innovations of all kinds from all research areas.
Imagine If!
Innovation Forum
As healthcare science start-ups stem from a broad spectrum of scientific fields, they are not always easily categorized. Therefore, we encourage applications from all R&D fields for ideas which can be applied to healthcare.
Participation in the IMAGINE IF! pre-accelerator is free, and we do not take any equity stake in your company. Furthermore we will introduce selected teams to venture capital firms, multinational companies and other key stakeholders to enable the rapid acceleration of their business.