The 4th edition of the Robotic Festival took place on May 7, 2011 at EPFL.
In one day, 13'000 people visited the festival. NCCR Robotics presented a particularly wide range of robots. There were 28 exhibitors, showed robots employed in research, education and industry but also in art or in humanitarian activities. 21 workshops attracted the interest of children, introducing them to programming, builduing or even welding their own robots.
There were also several shows: a demonstration of the humanoid robot iCub used for research on human cognition, a robot band playing music, and a robot contest.
Visitors came from around Lausanne as well as from the German part of Switzerland.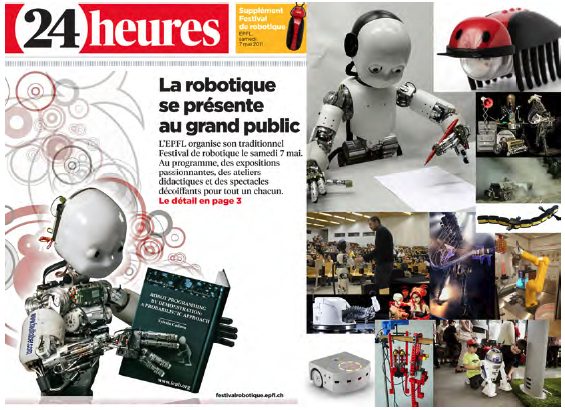 The 5th edition of the Robotic Festival took place at EPFL, on May 5, 2012 and counted 15'000 visitors.
The highlight of the day was AirJelly the robot, a machine of 1.3 m in diameter flying in the air with a rare and special grace for this type of machine. Also popular was the presentation of the iCub, a humanoid the size of a child, carrying the audience into the future by showing how a robot is capable of learning and thinking. There was also an opportunity to discover robots in the kitchen with a fun short story about the interaction between robots and a woman in the kitchen illustrating the challenges, advantages and disadvantages of robots.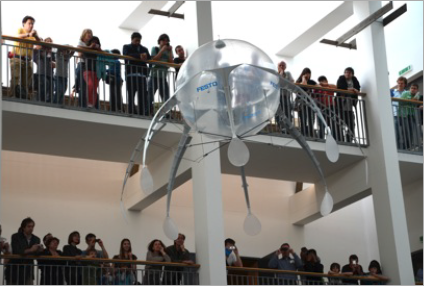 The event also hosted SwissEurobot 2012, a Swiss international competition, as well as the Roberta Cup, a robotic competition for young girls and boys, 10-16 organized by the EPFL Equal Opportunities office.
The 6th edition of the Robotic Festival took place at EPFL on April 20, 2013 with a record of 17'000 visitors.
NCCR Robotics had several demonstrations in the Festival, as well as an interactive screen and Thymio demonstrations attracting a fascinated non-stop crowd.
The Artificial Intelligence Lab (AI Lab) at the University of Zurich hosted Robots on Tour on March 2013 as it celebrated its 25th birthday.
This was a successful and unique robot exhibition, which welcomed 4'000 visitors in 2 days. NCCR Robotics participated with a stand, several demos and a Thymio competition was organized at the booth giving the visitors a chance to win a robot.