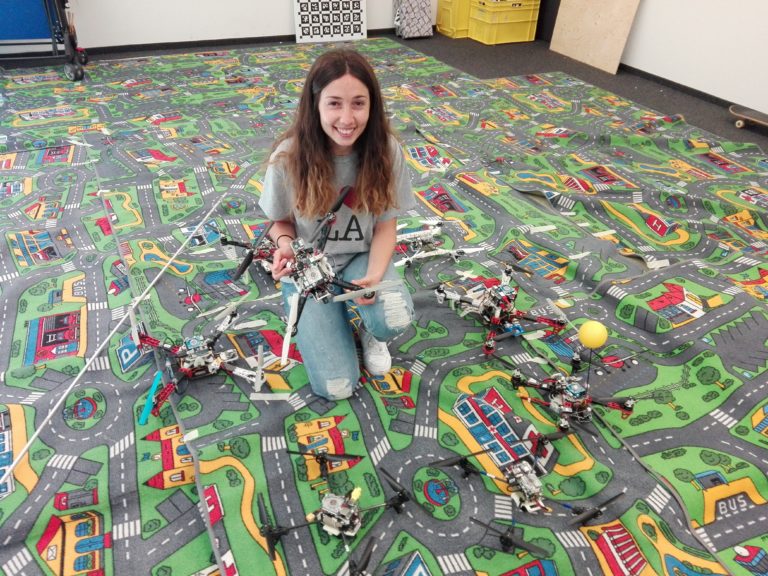 Home Lab:
Grupo di Tratamiento de Imagenes (GTI), with Profs. Narciso García, Carlos R. del Blanco
Home University:
Universidad Politécnica de Madrid, Spain

Visiting Lab:
Robotics and Perception Group (RPG) with Prof. Davide Scaramuzza
Visiting University:
University of Zurich, Switerland
Year of visit:
6 months in 2017
Project:
Learning to Navigate

1. Were you able to fulfill all your planned objectives?
Yes, I was able to finish my initial project and start a new one during my visit at Robotics and Perception Group (RPG), contributing to its research and my own. Both were published in some of the best international conferences, and even featured by media worldwide. I brought my expertise in visual perception, and acquired a deeper insight about robotics and deep learning.
2. Did this experience inspire/enable you to continue your career?
This experience definitely inspired me since it broadened my computer vision expertise to solve new problems. I worked on an end-to-end autonomous navigation system to safely fly a drone through the streets of a city. This work was published in the IEEE Robotics and Automation Letters (RAL) 2018, and featured by several media worldwide such as MIT Tech and The Drive. This motivated me to start a new project that solved steering angle prediction for self-driving cars combining event-based vision and deep learning. Although I couldn't finish it during my visit, I continued collaborating with my host lab to complete it. As a result, it was published in the IEEE Conference on Computer Vision and Pattern Recognition (CVPR) 2018. It was a very rewarding experience from which I learnt a lot, and that has definitely pushed my career.
3. Did your host lab contribute to the quality of your research?
The RPG works very hard to pursue its goal, and it counts on a great team of researchers that transmitted me their motivation. They helped and guided me to successfully complete very ambitious projects. They also provided me with all the necessary resources to ease my research.
4. Do you feel your association with NCCR Robotics has had an overall impact on your studies and future career?
My association with NCCR Robotics has broadened the possibilities for my future career, providing me with new opportunities that were outside of my research interests before this experience.
5. What are you currently working on and what are your plans for the future?
I am currently working towards finishing my PhD, and after that I plan to move on to industry research.